While COVID-19 took an around the world trip, we were stranded at home. The pandemic has touched everyone and in all aspects of their lives. Be it the way we shop for groceries, interact with neighbours or how we entertain ourselves. The social norms have changes completely. And on a professional level, work from home, finding alternative resources etc have become the new normal.
Most of us are taken aback by the enormous impact that COVID-19 has had on our personal and professional lives.
While the pandemic has proved to be disastrous for all, many businesses have taken it in their stride and made the best of the situation. We have seen that during COVID-19 pandemic the internet hits have increased tremendously worldwide. This is due to the fact that people are stuck indoors – and digital world is the only trip that is safe.
How can a business survive in such a situation? How can they – not only maintain their customers but also attract new ones? What should be their marketing strategy?
The simplest answer to all the above questions is Digital Marketing.
What Is Digital Marketing or Internet Marketing
The term digital marketing refers to all marketing efforts that utilize the internet or other digital channels like social media, webinars, WhatsApp etc to promote your products and services. The USP of Digital Marketing is that it adds two very important elements to traditional marketing. First, it offers new marketing channels that are entirely online and therefore immune to the COVID-19 social distancing consequences. Second, customers leave a lot of digital data that enables storing, tracking and measuring the effectives and ROI of every marketing campaign through its channels. And since your customers have moved indoors, your marketing also has to move indoors too.

The objective of any type of marketing – be it internet marketing or traditional marketing – remains the same; i.e. to attract more and customers and convert them in to sales. How can internet marketing help do this in the current pandemic and continue post lockdown?
Its never been easier than now to get started with Digital Marketing there are wide number of channels available today.
Paid Search. One can appear at the top of first search page results of the Search Engines by bidding for key words relevant to the search of the user. It delivers measurable results, and it can be easily scaled up or down to fit any digital marketing budget.
SEO. Businesses should aim for increasing their visibility by Search Engine Optimisation. It is usually combined with content marketing, so as to attract and retain the customers with relevant and interesting content. SEO is a long-term activity. Many businesses have been educating their customers about its impact on their industry and helping them cope with the ongoing pandemic by publishing informative blog posts and sharing interesting content.
Referrals and email. Referral traffic is generated from one website to another like word-of-mouth through links. And email traffic occurs when people visit your site via links you have sent in the emails. This is a good way to stay in touch with existing customers
PPC. Banner ads, Pay Per Click, social media posts boosts, is a fastest and the easiest way to direct traffic to your website. Yes, its expensive because you have to pay for each ad, each display, etc. But with little planning and targeting you get a high conversion rate.
Social media. This is perhaps the most used channel in the COVID 19 period. While surfing Facebook, Instagram, Twitter, Youtube etc if a person sees a message or an ad of your company and clicks on the link and is directed to your website, it is called social traffic. Social traffic is not hard to build, but it requires the creation of frequent relevant and engaging content.
Digital Marketing Strategy in the New Normal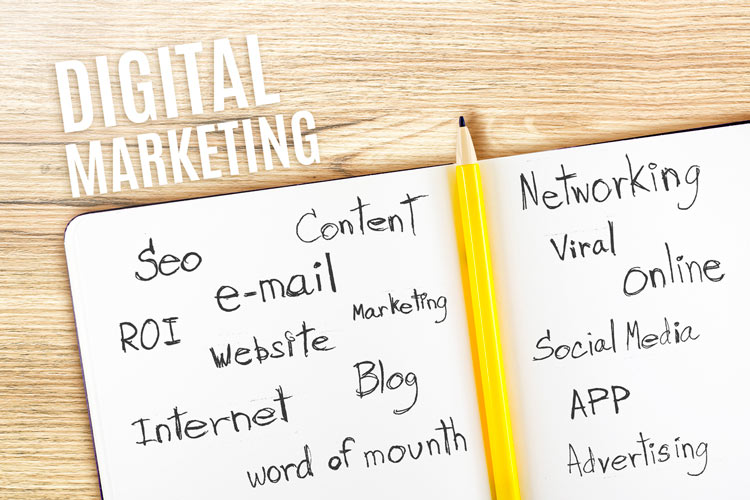 Choosing of the best channel is not the point as different digital channels also feed off each other, creating important synergies that lead to even more traffic and conversions. The key is choosing of proper mix and content and timing. What impacts the success of your digital marketing strategy is knowing your unique selling proposition (USP) and target market.
Key points to keep in mind while planning your digital marketing strategies in the new normal.
Understand the change. The lockdown has caused changes in the consumer behaviour- they are seeking online solution for buying essentials, staying in touch with family and friends, entertainment, learning etc. With so much of time spent online, digital marketing is the most suitable form of marketing and social media marketing perhaps is the best way to ensure a strong digital presence for your brand.
Establishing consumer relationships. Keeping in mind current situation, your messages to the customers should be compassionate and caring. Relate to their problems and offer solutions if you can. This can be done via Insta-stories, FB posts etc. Establishing a connection with the consumers today, will ensure brand loyalty.
Be honest. The COVID 19 had affected everyone. If you are not able to perform your service or deliver a product within a time, be upfront about it. This will go a long way to build your reputation.
Be visible. Your brand needs to be where the consumers are – ONLINE. People are still making purchases; the only difference is that they are doing it online.so you need to be present there. And when the situation changes the internet marketing will help create brand recall and keep your brand relevant to the consumers.
Business need to understand that the situation will change. They need to retain their presence and visibility because it will be harder to bounce back. Digital marketing is like a long-term investment, if companies are smart and creative with their messaging. Once this is all over and the world returns to normal, digital marketing will still work as a powerful tool to connect with your audience.
Call Adroitte
Contact us to discuss your digital marketing related requirement. Call us today on +91 7760487777 or 08041127377 or message us on our contact form and we will reply back ASAP. We can discuss how we can strategically implement digital marketing successfully for your organization.