Everyone is sweating it out to get their digital marketing campaign right, so this obviously makes the place crowded, well you know, quite crowded to get noticed by customers. So what's next?
If you have ever been a part of a digital marketing campaign, then you should know that content marketing will come into picture no matter what. But with only text-based content, your marketing campaign will not have that profound impact on your audience, because they today prefer visual content over dry words.
The words you have used may be powerful, interesting, or compelling, but your audience will not feel the same unless you refine the way you present your campaign.
Visual Content: A Brilliant Way to Capture & Engage your Audience
I'll give you a proof of that in this blog.
Now I'm going to give you few stats and facts to believe that visual content is the ONE.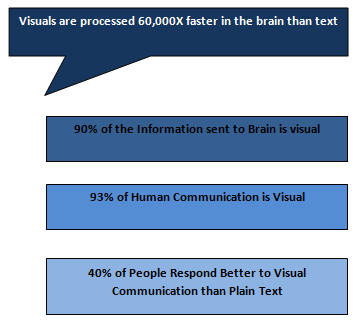 Source: business2community.com
Also,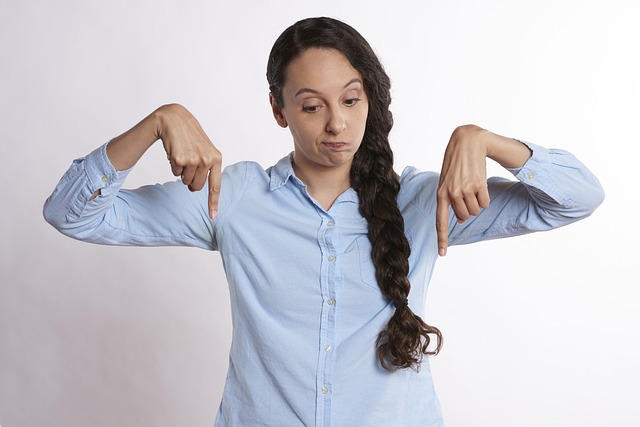 As per Hubspot,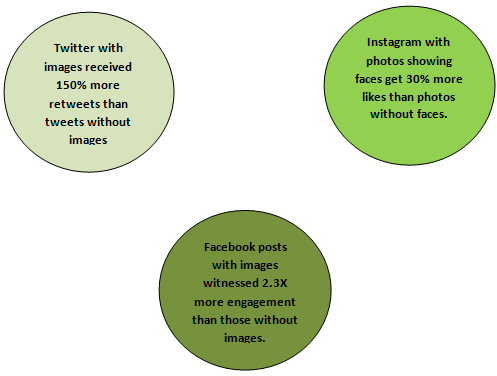 Since we are into 2018 let us look back and see how it went back in the preceding years.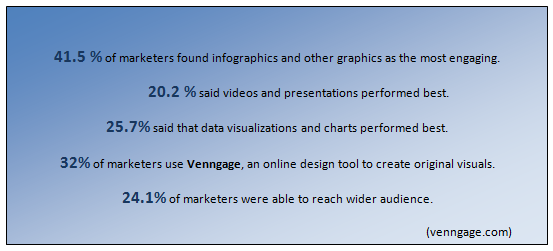 Now I think it's quite clear. To create great marketing we need visuals.
So now the question, what kind of visual content should we use?

List of Visual Content that will prove effective for your Digital Marketing Campaign
INFOGRAPHICS
'Infographics are the graphical representation of complex data.'
Infographics get shared more because they are eye-catching and simplifies data representation.
Infographics add life to boring data, make statistics more digestible.
A good infographic manages to convey complex information in less space and in a compelling manner.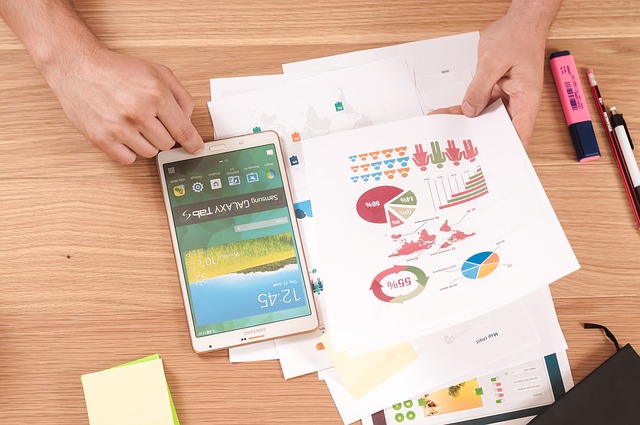 At the time when you want to create a story for your customers about your successful business growth or show six-figure numbers to your investors, you can go for infographics instead of text-filled content.
The year you established, the growing customer base, number of employees, the revenue, all these information you can present in a single page, professionally provided if you know how to do that.
VISUALIZATIONS
Adding whitepapers, blogs, articles are part of your marketing campaign. People understand the value of content that has in-depth research, but that doesn't mean they would enjoy it when you write unending paragraphs just to explain quantitative information.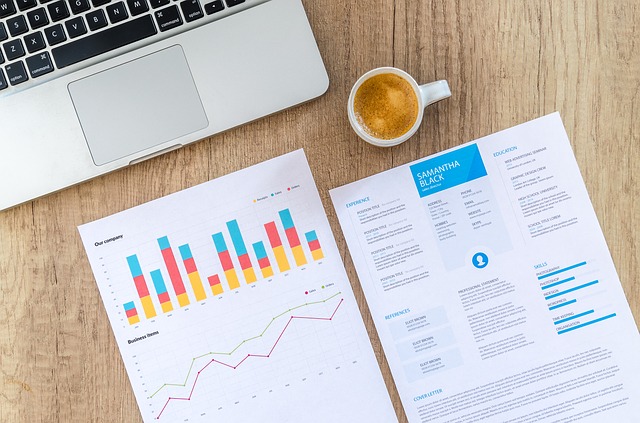 Use charts, graphs, or maps and make it easier for them to interpret the complex data.
Easier they feel dealing with your content; larger will be their magnitude of association with your brand.
VIDEOS
Videos take the concept of visual content to a whole new level.
According to wordstream.com, 87% of online marketers use video content and guess what, taking the report worldwide, 51% of marketing professionals feel that video content provides best ROI.
Videos not only garner stronger customer attention but also guarantee improved SEO. It's easier to create a video and at minimum expense.
With a video, you can tell a story, promote your brand in a personalized way and enlighten your customers about the products in a better way.
QUOTES & MEMES
It's funny, at the same time it's informative, and I'm speaking about memes here.
People love sharing memes that are witty. So with memes, you can show your quirky side and make people remember you for that.
Quotes, well it is one of the oldest tricks in the book, but hardly implemented. Quotes are the best way to inspire people to follow your lead. When you quote something that can relate to your work, you are actually pushing your audience to think to connect with you.
And one more thing, quotes, and memes are not a strategy. They are simply you can say an add-on to your marketing campaign.
Screenshots
You have released new software/application; if you want people to use it with ease include a good number of screenshots that would guide them through the process.
If you visit Whatsapp website you will see that each feature is explained in a screenshot.
The benefit?
People are able to understand features, simple, complex in a much easier way.
If you are planning to do this in your next digital marketing campaign, you can use Skitch, an online tool to create some.
CTAs
A 1,000-word blog on internet marketing and somewhere in between you have written or let's say directed the reader to click on some text that would direct them to a landing page.
Your bad luck, let's say they are not able to notice, they will not lose anything, but you, you have lost a chance to get a customer. Just think, what happens, when you lose a large number of customers in the same fashion?
This is where CTAs come into the picture.
CTAs are a perfect form of visual content. They are designed in such a fashion that any reader would easily locate it and proceed the way you want.
Call Adroitte
Contact us to discuss your NGO related website design requirement. Call us today on +917760487777 or 08041127377 or message us on our contact form and we will reply back ASAP. We can discuss how we can strategically implement NGO website design successfully for your organization.