Online marketing is still a vague concept because even today most of the organizations prefer offline marketing campaigns irrespective of the advantages that are offered under the latter method. Traditional marketing channels may have lost few shares to online marketing, but they have not completely lost the place.
If you have a question like why offline marketing is still on the radar irrespective of the exaggerating internet, then it's because of the local community.
One of the effective strategies of tapping local communities is through utilizing mediums, which people find less hard to access.
The Significance of Marketing Campaigns
Marketing is a complex process; it's about promoting and creating awareness about a product and nurturing leads. Any website with great design, world-class copywriting is of no use without marketing.
Below is a marketing funnel that depicts the process of doing an efficient business.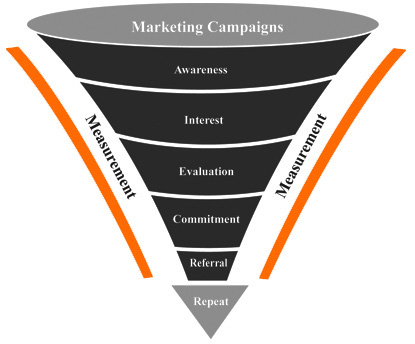 To the question, where businesses should be investing, we shall go through each of these marketing campaigns and define the choice.
Offline Marketing Campaign
Speaking of an offline marketing campaign, first, we should know about different offline media channels that are utilized.
Billboards, pamphlets, signs, print media such as yellow pages are some of the popular offline marketing tools that were used long back to promote a brand and maximize the market penetration of businesses.
The conventional definition,
'Offline marketing is a technique of promoting business through offline media channels including pamphlets, billboards, publications, postal service, radio, and TV.'
What are different Offline Marketing Strategies employed?
Businesses employing this old-school method adopt strategies that do not involve the internet.
Some of the offline marketing strategies are,
Loyalty Programs

It a program, which is specially designed for customers who frequently do business with an organization. Loyalty programs give customers an advance access to new products, free merchandise, special sales, and services.
Actually, it's a kind of marketing strategy designed for customer retention.

Direct Mail/Snail Mail

Since it is an internet free marketing campaign, one should get confused with the term direct mail/snail mail to regular email.
Snail mail is the actual delivery of promotional products directly to the target demographic.

Cold-Calling Strategy

The potential way to gain new customers along the line of the business process is to cold call.
The process involves gathering the list of potential customers who might be interested in your business. All you have to do is

Identify the target
Speak with the prospects
Gain insight into the campaign
Use the right tone and create new business
Online Marketing Campaign
Now everything will be over the internet.
'Internet marketing/online marketing can be referred to as a strategy or method for promoting business over the internet through various channels.'
Also, in this digital ecosystem, it is common to find organizations adopting new marketing strategies that would promise them better brand promotion and market penetration.
Online marketing campaign allows performing business promotions in a clear-cut manner. Affiliate marketing, SEO, social media, blogging, email, PPC and etc are some of the popular online marketing campaigns.
A campaign will be successful only if the approach is creative and proactive.
Let's go through some of these strategies and understand the potential of marketing online.
SEO

SEO is a process of improving the online visibility of the websites. Numerous techniques are employed and the campaign primarily involves identification of highly targeted keywords, which are then implemented in the content structure to gain favorable results.

Google Advertising

It's a simple process, where you pay Google to advertise your business, and of course, if you make any progress in your business, you have to pay Google.
This advertising system is called as Google Adwords, where advertisers bid for keywords that would appear in their ad campaign. As told before, once the ad is clicked Google will be paid commission.

Mobile Marketing

A multi-channel, online marketing strategy, mobile marketing is aimed towards reaching the target audience group through their Smartphones and other handheld devices.
Can they work together?
Rather than saying in opposition to, digital marketers will find it more convenient to run their marketing campaigns if they utilize both online and offline methods (together).
Today, not using online channels for promotional campaigns can put any business in a grave situation, but at the same time, offline marketing campaigns make it easier to reach the local audience.