In the digital age, Google Rank is a catalyst to improve online visibility. Social media platforms are utilized in wider aspects by businesses to keep growing in the dynamic market. People take help of social media platforms buying the products online, hence social media optimization (SMO) can play a bigger role in shaping a successful business.
In this post, we will check different aspects that can be implemented to optimize the social media for your business online presence.
What do we understand by Social Media Optimization?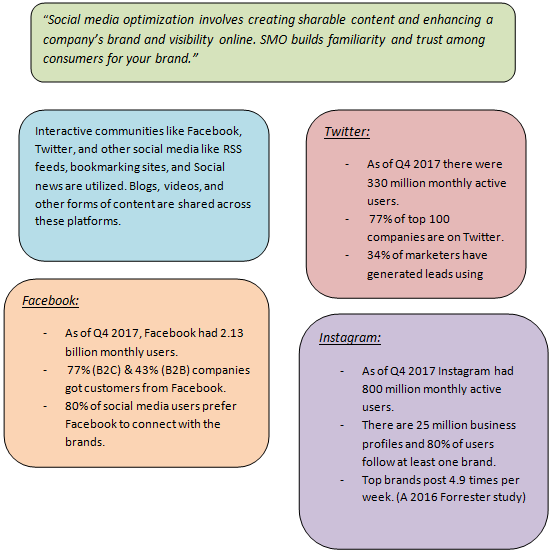 (Seotradenews)
Social media platforms are powerful. From passion to obsession to addiction, people are influenced at a greater magnitude, having them under the spell.
'Businesses can easily build a brand; they can increase revenue in a manifold, and make their products and services more interesting for the audience, who follow brand blindly on the social platforms.'
Well, whatever has been just told is not the reality (Pssst… only those within quotes). Just having a website or social media accounts will not fetch your business customers; you have to work towards it. You have to make your website get your business leads and customers through social media platforms.

Key Tips to Optimize Social Media for your Business Online Presence
Get Social Media Links for your Website
There are three major advantages of linking your social network profile with your website.

Link Building
Link building is the process where you get quality links from external websites and improve the authority of your website. Identify the target audience on the social media platform; place the relevant content such that right people find the information at the right time, and the right place.

Increase Search rankings
Your website will automatically experience a surge in search engine rankings once website reaches the right audience, at the right time. Improved search rankings promise a lot of benefits. Customers will frequent your website and your sales will improve.

Being Visible
To earn great benefits from social media channels, make it easier for your fans and followers find your social media profiles in less time. The social media icons should be prominently made visible on the pages that get more traffic, so visitors can easily share.
Keep Your Business Social Profile Up-to-Date

An up-to-date business profile reflects professionalism.
Don't overstuff your profile with keywords, but do add relevant search terms to make your business easily available to the user's search query.
Let's say your potential clients came across your business profile on LinkedIn. They will start with your profile photo, so if you have a photo of your CEO/business head smiling there, it's a big bonus.
Next, the details, a short creative headline with the right set of words that shots right through the curious reader and make him take your service. Following, there should be more details about the passion or goals of your business and other stuff that would make the reader more comfortable to approach.
One point you have to remember, the information shared on your social media profile and the website should be up-to-date and consistent.
Have Keyword-Rich Posts & SEO-Keywords on Social Media Accounts
Whether you write blog posts or run ad campaigns, keywords are essential and crucial. One right word that will get your customers right on your website.

Start with the Google Keyword Planner, search for the word that is most searched and highly relevant to your business.
Place the keywords with precision. The keywords should not appear stuffed. Be it your profile, tile, or skills, the keywords if placed logically will optimize your social media place for the search engine.
Connect with Your Social Media Followers

Socialize more to get more from social media platforms. According to the survey, 70% of the customers are more likely use a product if they are engaged by a brand online.
So,
Connect and communicate with your social media followers. Once you get a set of followers, exchange words with them. Ask their opinion about your brand, your products, and services. Appreciate their inputs, acknowledge them and implement changes if they are important and useful, and this you will earn you their loyalty and keep them hooked to your brand.
Create Engaging Content For Target Audience

Why should they stay back? Or Read? Or Share your posts?
Give them a reason to do that. Create content that is useful, unique, and engaging. Make keyword research the foundation. The more interesting your content piece is greater will be the share rate.
If Google finds your content is useful for the users, the website traffic and the search rank will see a surge and this will impact your bottom line.
If you are filling your bio, explain what your business does in a fun and engaging way so customers truly find a reason to associate with your brand.
Request Reviews from Customers

Your business will be like any other business. Even strangers can become your potential customers if they really value peer reviews because that's the power of words.
A review is a form of advertising. If a customer is leaving a positive review then it's a way to say your service or product was great and will influence others to follow their steps. For instance, a survey by Nielsen in 2015 of 30,000 internet consumers from 58 countries found that 83% of consumers trusted recommendations from people, while 70% trusted consumer's opinion online. Now it's 2018 and I'm pretty much positive that the numbers would have surged in the latter case.
If you already have clients you can request them to leave positive reviews. Use constructive tweets from clients, LinkedIn endorsements and build social proof for your business online.
Call Adroitte
Contact us to discuss your NGO related website design requirement. Call us today on +917760487777 or 08041127377 or message us on our contact form and we will reply back ASAP. We can discuss how we can strategically implement NGO website design successfully for your organization.