Finding clients for a real estate business is quite challenging. Whether it's offline or online, you have to put a huge effort, as you are dealing with properties and will be having a very less chance to serve old customers again.
Having a real estate website doesn't make you a huge resource, for almost everyone in this dynamic industry, have websites. So, it all boils down to how helpful your website is and how quickly or conveniently the customers are finding your real estate website.
You May Also Like: Top Real Estate Website Design Trends To Mark 2018
Be it any local businessman – a plumber, florist, or caterer to reach local customers and make good revenue can take advantage of local SEO. This marketing strategy allows customers to narrow down the result and if your website is optimized for the same, you will have your customers in no time.
Real-estate professionals, whether they like it or hate it should shape their marketing campaign around local SEO practices. Because, no matter how good the website is designed unless it reaches the desirable audience, the result will be ZERO or not so desirable.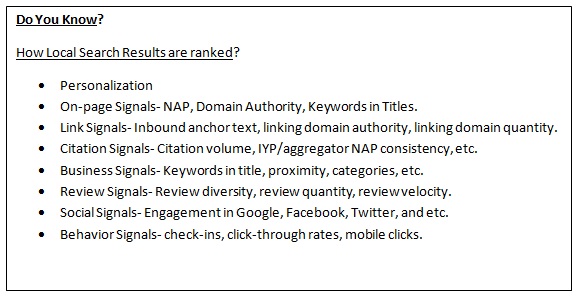 Real estate professionals have very less time for marketing. And in this post, they will be receiving tips that can make them a local SEO master.
The following section will guide you through best local SEO tips and help you improve traffic and sales of your real estate website.
5 Best Local SEO Tips to get on Top of Real Estate Business
SEO Tip #1: Set up Google My Business Page
If you have thought about running a successful local real estate business, then set 'Google My Business Page' immediately. Doing so, you will get an opportunity to list your business on Google Maps, local search results, and Google+.
When you are creating a page, make sure you are doing these things.
Creating unique, well-formatted content description with links.
Selecting proper categories for your business.
Adding high-quality profile picture and as many as other photos.
Maintaining consistent business address across the website and local directories.
Including information on opening hours, closing hours on regular days and designated holidays.
Collecting and adding genuine reviews from customers.
As similar to a website, Google Business Page allow you connect with your customers, tell them how unique you are, and finally, help you do great business.
SEO Tip #2: Optimize Every Landing Page with Local Keyword Data
Specific service from a specific locale.
Suppose you are selling properties in the city of Costa Mesa. The first you have to do is creating a list of long-tailed keywords and use them on your landing page. The list can go something like this.
Costa Mesa Homes for Sale.
Condos for Sale in Costa Mesa.
Costa Mesa Town Homes for Rent and etc.
If any of the prospective clients is looking for a condo or home in Costa Mesa they will suitably land on your page. It's necessary you have more keywords/search terms relating to your business. You can use the Local Keyword Research Tool, use the additional filter options and generate a list that you want to rank for.
Once you have the list, create content using the available keywords and optimize your landing page, so people will find it easier on their search engines.
SEO Tip #3: Make Sure NAP Listing is Consistent across the Web
One of the least requirements to avoid confusion among clients.
Real estate professionals or brokers have to maintain the (NAP) name, address, and phone number consistent across all the digital platforms, websites, citations, and directories.
It is a crucial signal that your business is legitimate. When searches find different information on each platform, Google takes it to be false and this will impact your search ranking.
Avoid giving search engines mixed views about your business. If you are changing the phone number or any detail, let the directories across the platforms be informed. This way you will avoid multiple listings on the same property.
BrightLocal, a local SEO tool, you can use it and keep your business citations clean and consistent across various digital platforms.
SEO Tip #4: Obtain Genuine Reviews from your Old Customers
Whether it's a cosmetic kit or property, people listen to others or take their words heavily before they make a choice.
A potential customer wants to buy a condo or rent a home in Palm Springs, California, but he has never been there before or knows anyone. In such cases, they look for good agencies who can guide them about the place.
Now you have around 10 competitors who are providing the same information about the place. A prospective customer may pick up your agency for assistance if they see you have been good at providing service. Having ex-clients to rate you or leave good words about your service will improve your business credibility. People will trust you more and approach you for the assistance.
SEO Tip #5: Focus on Localized Link Building 
Link to websites that will favor your business growth.
No matter what industry you are in, link building never loses its charm or value. The real estate business is no different. Internal links help the juice to flow through the site. This improves your visibility in search engines and you will be easily found.
It is necessary businesses have strong social signals in this digital market. You will find a good number of prospective clients on social network sites. You can develop high-quality blogs and link your posts on social media channels.
If the posts are shared, eventually, your website will have good organic traffic and make you a hotshot agent of the locality in a very less time.